Create a new article
Type in the article's name below: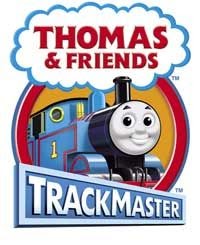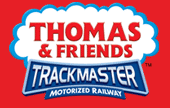 TrackMaster is a battery-operated system manufatured by fisher-price mattel used TOMY in the US and TOMY in the UK. The range was made in 2007 after previous owners, TOMY lost their license to HiT Toys to make the range. TOMY, however sold the range in the UK up untill 2010. In 2010 fisher price picked up HiT Toys' license. All of the sodor engines run on special plastic tan "track" and the roadway friends run on a special gray "road".
Motor Road and Rail Engines
Edit
In the US the engines and road vehicles were first released with half straight track or road pieces. Engines with * next to them means that this engine was in single pack and without anything to pull as well. Some have * beside them without a car but was in single pack too.
Other Motor Road and Rail Engines
Edit
Motor Road and Rail Engines with Tender and Driver
Edit
Special Edition Models
Edit
Steam making engines
Edit
In 2005, two sets feature a Thomas that could make real steam were made. (Technically while advertised as "real steam" they could blow a fine cold mist of water.)
Three pack engines
Edit
Most engines were also exclusively released in three-packs in the US. Some engines were also rereleased with different cars.
The following engines were also released by themselves without track:
Edit
Other US and UK Two Pack Engines
Edit
Other US Engines
Edit
In the US, some engines were released either a small engine with a car or a tender engine. The packaging showed a background of a quarry.
UK Engines
Edit
In the UK, the engines are sold in the same way the motor road and rail engines were, this time reskinned in TrackMaster packaging and some newer characters bought in with some moel ideas.
Rolling Stock
Edit
Roadway Vehicles
Edit
Remote Controlled Engines
Edit
Talking Raiway Series Engines
Edit
Plarial Talking Engines
Edit
Piarial engines had a switch on the bottom and phrases play quickly. The engines have the abilty to "talk" using speical green pieces of track. The engine's first carrige is connected to them and cannot be taken off.
Filp Face Talking Engines
Edit
Just like the Plarial engines their car cannot be taken off. The engine's face changes to different faces.
Regular Talking Engines Were Later Made By Fisher Price
Edit
Just like the Plarial and the Flip Face Talking Engines their car cannot be taken off. In the Real and Model Ideas these Models come with one tender or truck. The engines fit well on the TOMY track. The engine's phrase plays every ten seconds as they chuff around the track with their one truck or tender.
Greatest Moments Packs/Multi Car Packs
Edit
Freightliner Railway Service Engines and Road Vehicles
Edit
Destnations
Edit
Raise and lower drawbridge
Sodor search and rescue searchlight
Rattle and shake coal hopper
Maron water tower
Neptune refreshments
Coal Hopper
FRS Coach Depo
Engine Wash
Electric Roundhouse
Orange Island Airport
Sir Topham Hatt's Office
Engine X-Ray
Cuddington Road to Rail Station
Cranky, Bulstrode, and Captain at the Docks
Orange Island Steamworks
Orange Island Dieselworks
Delemare Crossover
Greendale Station
Pencaster Station
Orange Island Triple-Bridge
Orange Island Auto-Garage
Suspension Bridge
Docks accesory kit
Engine Sheds and turntable
Quarry Loader
Station croosing accesory kit
Crossing station
Water column
Harold and cargo delivery
Water column and coal loader
Turntable with engines
Sodor mountain mine
Sodor engine wash
Echo cave
Sodor carnival ferris wheel
Harold at the Hangar
Jeremy at the Hangar
Hay loader
Coal Loader
Cranky the crane
Knapford station
Build a bridge
Y-track pack
Deluxe expansion elavation track pack
Deluxe expansion track pack
Straight and curved track pack
Bridge expansion pack
Switch track pack
Figure of eight track
Backpack of Track
Sodor Main Line Track
Diesel expansion pack
Red express coach
Talking Percy expansion pack
Railway expansion 1
Railway expansion 2
Raspberry syurp tanker
Brown frieght car with barrels
Blue freight car with rocks
Green frreight car with fruit
Mountain of track
Curved track pack
Straight track pack
Turn-out track pack
S-track pack
Hero of the rails pack
Quarter straight track pack
Track expansion pack
Sodor roadway expansion pack
Sloped straight track pack
Height track pack
Misty island Track pack
Trucks and track packs
Edit
See-inside
Edit
Pop Up Cars
Edit
Japenese Talking Engines
Edit
Decorated Five Pack Engines
Edit
Massive set
Thomas at tidmouth sheds set
Percy at the ice cream factory
Thomas Track Set
Percy Track Set
James Track Set
Gordon Track Set
Thomas giant set
James goes buzz buzz set
160 piece set
Thomas Big set
Sodor search and rescue center set
Toby and Bash set
Emily and Dash set
Thomas' wild ride (only at target)
Spin and fix Thomas at the sodor Steamworks set
Busy day on sodor
Thomas Simple Set
Tidmouth Station
Thomas Motor Road and Rail set
Knadford Sheds
Fergus at the Cement Works
Elsbridge Adventure
Maron Station Crossing
Callan Station Deliver N Go Set
Sodor Auto Garage
Kelstrophe station Harold Stop N Go Set
Hackenback station Road and Rail
Sodor Lighthouse Set
Rollercoaster Mountain Rumblin Bridge Set
Ring N Go Autobell Set
Out at Sea! Set
Trouble in The Tunnel! Set
Jumping Jobi Wood! Set
Toad Stands By Set
Thomas climbing set
A day out with James set
Thomas' Cruise Set
Thomas and The UK trip Set
Thomas and the Railtour
Animal Park Set
Pop Special Set
Great waterton station
Morgan's mine
Sodor rail yard
Knapford Station
Engine wash
Water tower and coal loader set
Sodor Quarry loader
Harold at the Heliport
Caroline Stop N Go Set
The Windmill
Elsbridge Crossover
Rollercoaster Mountain
Jeremy at Sodor Airport
Thomas' day out set
Thomas starter pack
Thomas on parade set
Percy on parade set
James on parade set
Thomas and the frieght cars set
Thomas starter set
Talk'in action Thomas set
Thomas steam set
Thomas bucket set
Coal loader
Loader
Thomas at farquhar
Thomas at timber yard
Thomas dump car set
Thomas colorful turn rai set
Thomas first plarail set
Thomas at the suspension bridge
Stanley at the station
"Calling all Engines" set
Arthur at the copper mine
Toby at the copper mine
Thomas at action canyon
James Nolan Station
Colin in "The Party Suprise" set
"Topped off Thomas"set
Mavis at the quarry
Nelson at the quarry
Birthday cellabration set
Water tower steam set
Percy's day at the farm
Thomas on the go set
"Hard work at brendam docks" set
Thomas' busy day
Thomas' midnight ride (only at target)
Thomas at the Misty island deluxe set
Thomas and the Zip, zoom, and logging adventure playset
Thomas and the Shake shake bridge playset
Thomas and the Misty island discovery playset
Thomas at the station set
Sodor lumber yard set
Duck at farmer mccoll's playset
Thomas at the coal station
Knapford station celebration
Thomas holiday set
Cranky at the docks
Tomy Giant Set
Thomas at the engine wash
Green Bridge Set
Thomas Deluxe set
150 piece set
Harold to the rescue (only at toysrus)
Sodor adventure set
Springtime adventure set (only at target)
Springtime suprise Thomas (only at target)
Springtime suprise Toby (only at target)
Springtime suprise Rosie (only at target)
Sodor airport set
Funny rail set
Thomas christmas set
Holiday time in sodor
Thomas at echo cave
Rosie at the water tower (only at target)
Thomas adventure set
Thomas 60th anniversary set
Tiger Month at the Hangar
Bertie with road circuit
Green Bulgy with road and news stand
Green Bulgy with road circuit
Bertie with road and phone booth
Caroline with road and phone booth
Madge with road and phone booth
Elizabeth with road circuit
Dieselworks set
Thomas' Chocolate delivery
Thomas' depot set
Thomas at the airport
Thomas preschool products
Edit
HiT Toys has made some Thomas products for preschoolers.
In the Thomas' busy day set, Tidmouth hault is mislabled as Lower Tidmouth.
In the Toby at the copper mine set, Toby is a flip face engine.
In the James at boulder mountain set, James is a flip face engine.
In the Thomas at tidmouth sheds set, The remote was mispainted as a blue remote.
In the Thomas' midnight ride set, The track was different then other track TOMY made.
In the Percy at the ice cream factory set, Percy is a flip face engine.
The fisher price talking engines Thomas James and Percy were in regular form when it was taken a picture on websites outside the box, but was not like it inside the box.
All of the Greatest Moments Packs are New.
Every Single Engine comes with a battery checklist that tells evryone which engine takes which battery to work.
Tarka TOMY released Thomas, Edward, Henry, Gordon, James, and Percy again, but in better quality.
Fisher Price should have rereleased Toby and the whistling woods set with Toby and a Coal Car.
All of the roadway vehicles were discountinued in Japan.
Stanley was released for plarail, but with a log car and blue troublesome truck.
The TOMY range had discountinued in the UK and is now being replaced by Trackmaster.
Elsbridge station was made twice as itself and known as "Thomas Crossing Station".
In a rare video on the tarka TOMY webside it shows a talking Henry, Toby and Diesel 10.
The UK engines with engine puilling two cars and the motor road and rail engines were only released with track.
Some of the Greatest Moments Packs came with a Trackmaster Fall 2010 collector checklist who got the mistakes with the cargo cars in the first section starting from Amazon.com Marketplace then fisher price.com/thomasandfriends picked it up and put it on their fall 2010 collector checklist which people corrected on TrackMaster pages.
The Thomas that was on boxes was a batchman Thomas.
TOMY should have kept up with their license so they could make the range quicker.
Fisher-Price and HiT Toys should have rereleased the Colin in The Party Suprise set with Freddie.
The shake shake bridge and the zip zoom and logging adventure Thomas was different than the other TOMY Thomas they made.
The greatest moments packs Thomas in "Slippy Sodor" Emily in "Splish, Splash, Splosh" Charlie in "Play Time" Dash the Logging Loco Bash the Logging Loco and Percy and the Search Cars were the only greatest moments packs to have Prototypes, but was not released yet.
The Three New greatest moments packs Thomas In a Jam, Toby and the Clown Car and Salty's Fish Delivery were only released with two half straight track pieces, including the Stop and Go piece of track and the Freight Car made Poping sounds from Fisher-Price.
The remote controlled engines were the only engines that could go backwards on the track.
Arry and Bert were the only two twin diesels that came with the same colored car.
Ferdinand the logging loco greatest moments pack was also seen on "Misty Island Rescue" like Bash the logging loco, Dash the logging loco, Percy and the search cars, Misty island track pack Misty island Deluxe set, zip, zoom, and logging adventure, shake shake bridge, and misty island discovery were, but they did not write it in log letters or put as seen on "Misty Island Rescue" on the box when they made it.
The remote controlled engines Thomas Percy Stanley Charlie Mavis Murdoch Gordon and James only came in a two three and four pack.
The talking flip face had extra accesories but the fisher price did not have the accersories.
Some two pack engines came in two different packaging.
The Henry that they made had a working headlight which Percy was supposed to have it.
The Thomas they made had a working headlight.
The Cranky that was in the Cranky and Flynn save the day set was a remote controlled crane.
The fisher price talking Thomas only toots three times while the other fisher price engines toot once.
The fisher price talking Salty was the longest to say the "Hello" phrase.
The fisher price Talking Gordon came with one and two toots on his "Hello I'm Gordon" and "Full Steam Ahead" phrase.
A flip face Gordon is seen on the back of some TrackMaster boxes, but has not been released yet.
The slippy sodor Thomas' Funnel is just painted red.
All of the talking engines and remote controlled engines could not uncouple from their car or tender.
The fisher price talking Henry said the "Hello I'm Henry" phrase almost every time at the end.
The two pack Mavis took a picture of a green brekavan but the car was a troublesome truck in the box.
Kevin was only released in a three pack.
Salty Dart and Den were the only diesel engines that did not require C batteries.
Henry Gordon Edward and James were the only tender engines that require C batteries.
The Percy and the search cars came with a Percy that was like the Percy's chocolate crunch Percy.
The fisher price talking James and Gordon both said "Full Steam Ahead" on their 4th phrase.
The fisher price talking Gordon did not toot before the engine phrase in the 3rd and other odd rounds.
Some of the tender engines also like the talking engines and remote controlled engines could not uncouple either.
The 160 Piece Set was the longest train set in the TrackMaster Motorized Railway System, which was a UK TrackaMster set.
The Colin in "The Party Suprise" set was the only set that had a Thomas pull a red flatcar and Thomas pull a black flatcar.
TrackMaster track was used twice to break the world's record for the longest toy train set.The first time at the Thomas land theme park in the UK in 2008 and later at The Workshops Rail Museum Australia in 2010.
Some of the newer tender engines have their motors in their tender to avoid having a wire that could break between the two parts of the engine.
External Links
Edit