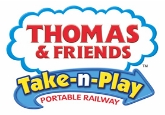 Take-n-play is a Thomas and friends die-cast toy range producted by fisher price mattel. It is replaced and compatible with the Take-Along range.
Thomas
Edward
Henry
Gordon
James
Percy
Toby
Duck
Donald
Douglas
Emily
Molly
Murdoch
Rosie
Spencer
Stanley
Diesel 10
Skarloey
Rheneas
Sir Handel
Duke
Mighty Mac
Flora
Hank
Hiro (normal and patchwork)
Victor
Salty
Charlie
Bill and Ben
Mavis
D199
Arthur
Whiff
Bash
Dash
Ferdinand
Scruff
Belle
Dart
Den
Rolling Stock
Edit
Annie and Clarabel
Troublesome Truck
Storybook Car
Diesel Oil Tanker
Magic Quarry Car
Rocky
Sodor Supply Co.
Bubbles Car
Spider Exhibit Car
Zoo Car
Sodor Cement Mixer
Sir Topham Hatt's Musical Caboose
Farm Animal Car
Sodor Mining Co. Car
Sodor Zoo Snake Car
Roadway Vehicles
Edit
Sir Topham Hatt's Car
Mr. Percival's Car
Bertie
Harold
Elizabeth
Madge
Kevin
Captian
Jack
Alife
Byron
Kelly
Isobella
Butch
Flynn
Special Edition Engines
Edit
Chocolate Covered Thomas
Jelly Bean Percy
Multi-Car Packs
Edit
Thomas and Rosie
Percy and Mavis
Toby and Flora
Thomas, Percy, and Rosie
Percy's Sweet Special (Includes Chocolate Covered Percy, a Mr. Jolly's Chocolate Factory truck and a Sodor Sweet Shop Tanker)
Gordon's snowy special (Includes snow covered Gordon and two trucks with coal and log loads)
Spencer's heavy haul (Includes Spencer and two special trucks)
Emily stuck in the brush (Includes Emily and two trucks)
James' Muddy Mess (Includes James and two trucks)
Thomas and the Lion of Sodor (Includes Thomas a Lion on a truck and a boxcar)
Thomas and the Troublesome Trucks (Includes Thomas and two trucks)
Edward and the Jobi Tree (Includes Edward and two log cars with Jobi Wood)
"Pop Goes Thomas" (Includes lemonade covered Thomas and lemonade truck)
Thomas and the Treasure (Includes Thomas and a Pirate's Cove truck with Treasure Chest)
Henry and the gold mine (Includes Henry and gold mine truck)
Thomas and the bees (Includes bee covered Thomas, a bee car, a hive truck, and a honey tanker)
Hank and the fishes (Includes Hank, a boat on a flatbed, and a Brendam fish market truck)
Salty's catch of the day (Includes Salty, a tanker, a Brendam fish market truck, and a boat on a flatbed)
Harold and the rescue cars (Includes Harold, a flatbed with lifeboat supplies, and a Sodor Rescue truck with magnetic load)
Charlie and the Aquarium (Includes Charlie, a fish truck, and a fish tank car)
Percy Hard at Work (Includes Percy and three sodor construction co. trucks with loads that create a covered bridge)
James' Ice cream express (Includes James, flatbed, ice cream containers, and Sodor Sweet Shoppe tanker)
Percy and Kevin to the rescue
Kevin's helping hook
Talking Engines
Edit
Thomas
Edward
Henry
Gordon
James
Percy
Percy at the Dieselworks
Toby
Emily
Rosie
Spencer
Diesel
Flynn
Troublesome Trucks
Thomas at the Farm
Percy's Mail Delivery
Cranky at the Docks
Totally Tidmouth Playset
Rescue from Misty Island
Tote-a-Train box
Sodor shipping co. Load and go playset
Knapford Station Playset
Rock Quarry run
Colin at the Wharf
Sir Handel at Great Waterton
Tidmouth Tunnel starter set
Toby at Trotter's Farm (Tesco exlusive)
Sodor Dieselworks (coming soon)
The toys are sightly upgrated versions of the Take-Along models.
The prototype Kelly had Max and Monty's face with the breakdown crane.
The Storybook Car's prototype had yellow magnets.
The Sodor suppliy Co. prototype had a steam engine's boiler.
Captain's model does not have a mast.
The Knapford Station set has shed doors.